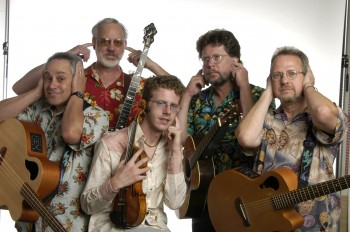 Hank Card and Conrad Deisler began writing songs together in 1976 when both were under-grads at Princeton. When the pair moved to Austin in 1980 they hooked up with pedal steel/banjoist Tom Pittman. Thus were the Austin Lounge Lizards born and they continue to this day, delighting crowds nationwide with their mix of top notch playing and hilarious lyrics that address many of the political and societal issues of the day.
Tom, Hank and Conrad are joined by bassist Boo Resnick, Korey Simeone on mandolin, and Eamon McLaughlin on fiddle on their 9th album 'Strange Noises in The Dark'. The album, the Lizard's first for Blue Corn Music, is a typically diverse affair. Given that the Lizards list as their influences Frank Zappa, Flatt &Scruggs, Steve Goodman and George Jones, among others, such diversity is not a surprise and is welcomed by their many fans around the world.
'Strange Noises in The Dark' features guest vocalist Kelly Willis on the tender track 'We Always Fight When We Drink Gin' as well as the touching 'Phil and Jesse' (the story of 2 retired Senators who can finally 'be who they are'), the self-explanatory 'Why Couldn't We Blow Up Saddam', and 11 other tracks of Lizard magic.
The Lizard's busy touring schedule should bring them to your area soon. However, if you just can't wait we are delighted to provide you with some relief. In the spring of 2000, the Lizards celebrated their twentieth anniversary with a sold out show at Austin's legendary blues club, Antone's. That filmed performance (augmented by interviews with the band and featuring various former Lizards) is the basis of LIZARDS TIMES TWENTY, the Lizards' first and greatest DVD. One of the band's best performances is captured for posterity by award winning filmmaker Steve Mims (Webb Wilder's Horror Hayride, Aunt Hallie). Presented here in widescreen format and with pristine digital sound, LIZARDS TIMES TWENTY captures for all time the genius, skills and charm of the nation's funniest performing reptiles.
LIZARDS TIMES TWENTY was an official selection of the 2003 South By Southwest Film Festival.