1) Killin' Time in Texas

Audio clip: Adobe Flash Player (version 9 or above) is required to play this audio clip. Download the latest version here. You also need to have JavaScript enabled in your browser.

2) Madalyn's Bones
3) Food, Water, Shelter and Love
4) Blanket
5) Diamonds to Dust

Audio clip: Adobe Flash Player (version 9 or above) is required to play this audio clip. Download the latest version here. You also need to have JavaScript enabled in your browser.

6) With God On Our Side
7) I've Got A Passion
8) Windows Open, Windows Close
9) Up Against It
10) Worth Dyin' For
11) Need You Now

Audio clip: Adobe Flash Player (version 9 or above) is required to play this audio clip. Download the latest version here. You also need to have JavaScript enabled in your browser.
1) Yesterday She Didn't

Audio clip: Adobe Flash Player (version 9 or above) is required to play this audio clip. Download the latest version here. You also need to have JavaScript enabled in your browser.

2) Were You Lyin' Down?

Audio clip: Adobe Flash Player (version 9 or above) is required to play this audio clip. Download the latest version here. You also need to have JavaScript enabled in your browser.

3) Ten Years of Love

Audio clip: Adobe Flash Player (version 9 or above) is required to play this audio clip. Download the latest version here. You also need to have JavaScript enabled in your browser.

4) Without You
5) The Whole Truth
6) Me And You
7) I'll Change
8) Where There Is Smoke
9) A Girl Like You
10) Lost Without You
11) Grabbin' For Love
12) Your Sister
13) They're Hangin' Me Tonight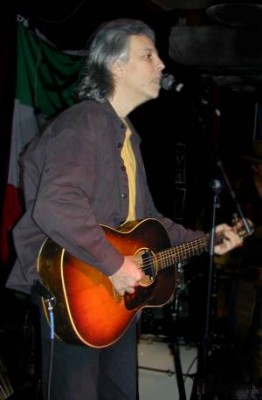 Gurf Morlix has been a professional musician since 1966. He plays guitar, bass, mandolin, mandocello, dobro, pedal steel guitar, lap steel, Weissenborn guitar, banjo, piano, harmonica, drums, and just about anything else he might find lying around.
Gurf has produced, recorded with, or performed with a veritable "Who's Who" of the music business. The list includes Warren Zevon, Mary Gauthier, Robert Earl Keen, Slaid Cleaves, Ray Wylie Hubbard, Buddy Miller, Julie Miller, Ian McLagan, Lucinda Williams, Tom Russell, Eliza Gilkyson, Hot Club of Cowtown, Guy Clark, Emmylou Harris, Michelle Shocked, Blaze Foley, Jimmy LaFave, Jimmie Dale Gilmore, Butch Hancock, Mojo Nixon, Jim Lauderdale, Michael Penn, Jerry Lee Lewis, Peter Case, Bob Neuwirth, Don Walser, Jon Langford, Troy Campbell, Bob Schneider, Steve Earle, Harry Dean Stanton, Syd Straw, B.W. Stevenson, Billy Swan, Charlie Sexton, The Plimsouls, Victoria Williams, James McMurtry, Sonny Landreth, Doyle Bramhall, Flaco Jimenez, Steve Forbert, Bill Kirchen, Lazy Lester, Rosanne Cash, David Byrne, Kevin Welch, C.C. Adcock, John Prine, Dave Alvin and many more.
He worked with Lucinda Williams for eleven years, serving as guitarist, vocalist and bandleader, as well as producing her critically acclaimed albums Lucinda Williams (Rough Trade/Koch) and Sweet Old World (Chameleon/Elektra).
He has released three solo albums, Toad Of Titicaca, Fishin' In The Muddy, and his latest, Cut 'N Shoot .
Gurf spends most of his time holed up in his home studio, producing albums for many well known artists, but he gets out once in a while to tour on his own or with some of his famous friends.
Gurf currently can be seen playing in the Imperial Golden Crown Harmonizers, a sort of superstar gospel group, who perform every Sunday afternoon in Austin, Texas and donate all the proceeds to local charities.
Gurf Morlix Discography
2005

Mary Gauthier, Mercy Now, (Lost Highway)

Produced, engineered, mixed, various instruments, vocals

Ray Wylie Hubbard, Delerium Tremolos, (Philo)

Produced, engineered, mixed, mastered, various instruments, vocals

Darryl Lee Rush, Llano Avenue, (Shiner)

Produced, engineered, mixed, mastered, various instruments, vocals

Troy Campbell, Oklahoma Speedway, Pending

Produced, engineered, mixed, mastered, various instruments, vocals, cowrote 2 songs

Bob Schneider, Pending

Produced, engineered, mixed, mastered, various instruments, vocals

Jennie Stearns, Pending

Produced, engineered, mixed, mastered, various instruments, vocals

2004

Gurf Morlix, Cut 'n Shoot, (Blue Corn)

Produced, engineered, mixed, mastered, vocals, various instruments

Blaze Foley, Oval Room, (Lost Art)

Produced, mixed, mastered, guitars, bass, vocals

Slaid Cleaves, Wishbones, (Philo)

Produced, engineered, mixed, mastered, various instruments, vocals

Ian McLagan, Rise and Shine, (Gaff)

Guitar, vocals

2003

Ray Wylie Hubbard, Growl, (Philo/Rounder)

Produced, engineered, mixed, mastered, various instruments, vocals

Eric Westbury, Burnt Tongues and Blue Truths, (Barreltown)

Produced, engineered, mixed, mastered, various instruments, vocals

Mike Martt, Tomorrow Shines Bright, (Superscope)

Guitar, slide guitar

Troy Campbell, American Breakdown, (Loudhouse)

Produced, engineered, mixed, mastered, various instruments, vocals,
cowrote one song

McKay Brothers, McKay Brothers, (Texas Archipelago)

Produced, engineered, mixed, mastered, guitar, pedal steel guitar

Jeff Plankenhorn, Plank, (Blue Corn)

Produced, engineered, mixed, mastered, various instruments, vocals

A Tribute to the Songs of Fred Eaglesmith, (Twangoff)

Produced, engineered, mixed vocals, various instruments on Gurf Morlix track and Mary Gauthier track

Executioner's Last Songs Vol. 2 & 3, Anti-Death Penalty Benefit, (Bloodshot)

Vocals, guitars & steel guitar on Gurf Morlix track

Tom Russell, Modern Art, (HighTone)

Pedal steel guitar

2002

Gurf Morlix, Fishin' in the Muddy, (Catamount)

Produced, engineered, mixed, mastered, vocals, various instruments

Hot Club of Cowtown, Ghost Train, (Hightone)

Produced, engineered, mixed, mastered

Mary Gauthier, Filth & Fire, (Signature Sounds)

Produced, engineered, mixed, mastered, various instruments, vocals

Linda McRae, Cryin' Out Loud, (Black Hen)

Produced, mixed, mastered, guitar, vocals, cowrote one song

Eliza Gilkyson, Lost and Found, (Red House)

Slide guitar

Ivan Brown, Fortune Wheel, (Tin Foil)

Mixed, mastered, engineered, cowrote one song, guitars, vocals

Jason Eklund, Jason Eklund, (Self Released)

Produced, mixed, mastered, various instruments, vocals

Loose Affiliation of Saints & Sinners, Sessions at the San Jose Rm. 50, (Lasas)

Bass, backing vocals, foot stomp

Hayseed, In Other Words, (Artist Friendly)

Cowrote one song

2001

Ray Wylie Hubbard, Eternal & Lowdown, (Philo/Rounder)

Produced, engineered, mixed, mastered, bass, guitars, vocals, organ, percussion, mandolin, octofone

Robert Earl Keen, Gravitational Forces, (Mercury/Lost Highway)

Produced, mixed, guitars, steel, harmonium, vocals

Tom Russell, Borderland, (Hightone)

Produced, engineered, mixed, mastered, bass, guitar, steel guitar, Weissenborn, harmonium, vocals

Slaid Cleaves, Holiday Sampler EP, (Philo)

Produced, engineered, mixed, mastered, guitars, vocals

Imperial Golden Crown Harmonizers, Self Titled, (Catamount)

Mixed, vocals, guitar, lap steel

Rod Picott, Tiger Tom Dixon's Blues, (Welding Rod)

Co-wrote the song Torn In Two

Rainravens, One Last Saturday Night, (RR)

Guitars

John Sieger, El Supremo, (Catamount)

Mandolin, vocals

Libbi Bosworth, Libbiville, (Ramble)

Vocals

Karen Poston, Real Bad, (Music Room)

Guitar

Mandy Mercier, Wild Dreams of the Shy Boys, (Wild Cantinas)

Mixed, guitar, lap steel

2000

Gurf Morlix, Toad of Titicaca, (Catamount)

Produced, engineered, mixed, vocals, various instruments

Slaid Cleaves, Broke Down, (Philo)

Produced, engineered, mixed, various instruments, vocals

Ian McLagan, Best of British, (Gadfly)

Produced, mixed, guitars, vocals

Jim Whitford, Poison In The Well, (Self Released)

Produced, engineered, mixed, various instruments, vocals

One Fell Swoop, Crazy Time, (Brambus)

Produced overdubs, engineered, mixed, various instruments

Rod Moag, Ah-Haa! Goes Grass, (Textracs)

Co-produced, engineered, mixed, vocals

Blaze Foley Inside BFI Volume 3, Blaze Foley Tribute, (Deep South)

Produced, engineered, mixed, various instruments, vocals on Gurf Morlix track

Chris Montgomery, You Know You Want It, (Big Pants Records)

Pedal Steel, lap steel, vocals

Ana Egge, 101 Sundays

Pedal steel guitar

1999

Jimmy LaFave, Trails, (Bohemia Beat)

Steel Guitar on one track

Tom Freund, Sympatico, (Surf Road)

Guitar, lap steel

Julie Miller, Broken Things, (Hightone)

Engineered Patty Griffin's vocal

Mojo Nixon, Sock Ray Blue, (Shanachie)

Guitar, lap steel, hillbilly vocals

Rainravens, Rose of Jericho, (Blue Rose)

Guitar, pedal steel, lap steel

Happy, Texas, Motion Picture soundtrack, (Arista)

Produced Robert Earl Keen track

Jim Roll, Luna, (New West)

Electric guitar

Return of the Grievous Angel, Gram Parsons Tribute Album, (Almo)

Lap steel on Rolling Creekdippers track

1998

Robert Earl Keen, Walking Distance, (Arista)

Produced, mixed, various instruments, vocals

Lucinda Williams, Car Wheels on a Gravel Road, (Mercury)

Guitars, vocals

Beaver Nelson, The Last Hurrah, (Freedom)

Vocals

Trish Murphy, Crooked Mile, (Raven)

Guitar

Andrew Hardin, Lunchtime at an Alligator Farm, (Round Tower)

Steel guitar on one track

The Kennedys, Angel Fire, (Philo)

Guitar

1997

Slaid Cleaves, No Angel Knows, (Philo)

Produced, mixed, various instruments, vocals

Buddy Miller, Poison Love, (HighTone)

Bass

Robert Earl Keen, Picnic, (Arista)

Guitar

Linda McRae, Flying Jenning, (Stony Plain)

Guitar, mandocello, vocals

Libbi Bosworth, Outskirts of You, (Freedom)

Vocals

William James IV, #9, (Prufrock)

Guitar, mandolin

1996

Teddy Morgan, Louisiana Rain, (Antones)

Mixed, guitar, bass, lap steel, vocals

Bob Neuwirth, Look Up, (Watermelon)

Engineered, dobro

Rig Rock Deluxe – A Musical Salute to the American Truck Driver, (Diesel Only)

6 string bass on Don Walser track and Rig Rock Deluxe track

1995

Butch Hancock, Eats Away The Night, (Sugar Hill)

Produced, mixed, guitar, lap steel, vocals

Buddy Miller, Your Love and Other Lies, (HighTone)

Bass, guitar, vocals, cowrote one song

Michael Elwood and Beth Galiger, Rolling Valentine, (Dejadisc)

Bass, guitar, mandolin, lap steel

Danny Tate, Nobody's Perfect, (Charisma)

Guitar, mandolin

Marvin Etzioni, Communication Hoedown, (Marvin)

Bass, vocals

1994

Robert Earl Keen, Gringo Honeymoon, (Sugar Hill)

Guitar

Jim Lauderdale, Pretty Close to the Truth, (Atlantic)

Guitar, pedal steel

Tulare Dust, Merle Haggard Tribute, (HighTone)

Lucinda Williams track – Produced, mixed, guitar, mandolin, vocal

1993

Victoria Williams Benefit Album, Sweet Relief, (Chaos/Columbia)

Produced, mixed, guitar – Lucinda Williams track

Jim Lauderdale, Pretty Close to the Truth, (Atlantic)

Guitar, pedal steel

Michael Fracasso, Love and Trust, (Dejadisc)

Guitar

1992

Lucinda Williams, Sweet Old World, (Chameleon)

Produced, mixed, guitars, Dobro, mandolin, steel guitar, vocals

The Setters, The Setters, (Watermelon) (Blue Million Miles)

Produced, mixed, guitar, vocals

The Pine Dogs, Going Away Party, (Das Kapital)

Produced, mixed

Michael Penn, Free for All, (RCA)

Pedal steel, vocals

Marvin Etzioni, Bone, (Restless)

Bass, vocals

1989

Jerry Lee Lewis, Great Balls of Fire, Motion Picture soundtrack, (Polydor)

Guitar on four tracks

1988

Lucinda Williams, Lucinda Williams, (Rough Trade/Koch)

Produced, mixed, various instruments, vocals

1986

Peter Case, Peter Case, (Geffen)

Vocals

1984

Blaze Foley, Blaze Foley, (Vital)

Bass

1981

Eric Taylor, Shameless Love, (Featherbed)

Bass
Compilation Albums
True Voices (Demon) Lucinda Williams track – Produced, guitar
Born To Choose (Ryko) Lucinda Williams track – Produced, mixed, guitar
Don Walser – Dare to Dream (Texas Music Group) – 6 string bass
Austin Country Nights (Watermelon) Libbi Bosworth track – Bass
Uprooted – Various artists (Shanachie) – Guitar, vocals on Libby Bosworth track
Kerrville Folk Festival 25th Anniversary Album (Silverwolf) – Guitar on Butch Hancock track
Folkscene Collection Vol. 2 (Red House) – Guitar, vocal on Lucinda Williams track
Poet: A Tribute to Townes Van Zandt (Free Falls) – Produced, mixed, various instruments on Robert Earl Keen track
Roots Music: An American Journey (Rounder) – Produced, engineered, mixed, various instruments, vocals on Ray Wylie Hubbard track and Slaid Cleaves track
From Hell to Breakfast (Sugar Hill) – Guitar on Robert Earl Keen track
Kerrville Folk Festival 2000 (Silverwolf) – Guitar on Butch Hancock track
Town South of Bakersfield Vol. 2 (Restless) – Guitar on Jeff Steele track
Town South of Bakersfield Vol. 3 (Restless) – Guitar on Steve Kolander track