1) All This Weight

Audio clip: Adobe Flash Player (version 9 or above) is required to play this audio clip. Download the latest version here. You also need to have JavaScript enabled in your browser.

2) Daniel Lee

Audio clip: Adobe Flash Player (version 9 or above) is required to play this audio clip. Download the latest version here. You also need to have JavaScript enabled in your browser.

3) Same Old

Audio clip: Adobe Flash Player (version 9 or above) is required to play this audio clip. Download the latest version here. You also need to have JavaScript enabled in your browser.

4) Mellow Doubt
5) Ring in the Shape of a Heart
6) On the Corner
7) Miss Mary
8) I'm Going to Live the Life I Sing About in My Song
9) 6 Feet Deep
10) Pious Proud
11) Think of What You've Done
12) Streetwise Man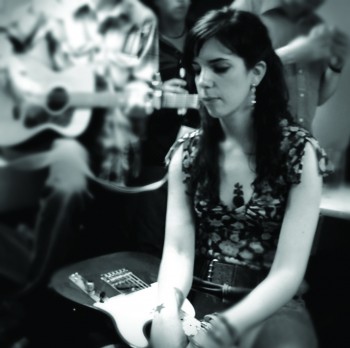 Sarah Borges is a student.
It has nothing to do with the fact that she has worked at the prestigious Berklee College of Music in Boston. Sarah Borges is a student in the same sense that Alan Lomax was a student, constantly looking for authentic, heartfelt sounds. The difference is that Borges digests the sounds around her and then delivers them anew in her own distinctive and unique style.
A rock n' roll background, deep fried with an admiration for American roots music and served with the finest of seasonings by legendary studio wizard Paul Q. Kolderie (Radiohead, Uncle Tupelo, The Pixies) proves a tasty recipe. Borges' debut, 'Silver City' has just enough spice to make you sit up straight and enough heartfelt emotion to make you think hard about why it is that you're wiping your eyes at its conclusion.
'It's about me finding my place in a culture I am continually learning about,' Borges admits, speaking of a process that began with a group of friends, all renowned Boston players, gathering on Sunday afternoons to play covers.
'The band was started as a Sunday afternoon get together, drink some beers and play songs that we knew as a group, lots of country covers,' she recalls with a smiling demeanor that has no chance of containing her bubbly enthusiasm. 'The obvious progression is that you want to play a show.'
So play shows she did, including an unsanctioned gig at Austin's legendary Threadgill's during last year's South By Southwest Music Conference. Among those smitten by Borges' magnetic stage presence and confident delivery was Blue Corn Records President Denby Auble. There were surely countless artists in the capitol of Texas that week who had soaked up the influences of Bob Wills, Kitty Wells, Hank Williams, and Waylon Jennings. But how did a girl from Boston manage to incorporate these legends with the swagger of Chrissy Hynde and the punch of such contemporary artists as Neko Case and Shelby Lynne?
'Hank Williams songs and punk rock songs are really the same thing,' Borges states, with the matter of fact attitude of a serious musicologist. 'I didn't understand that in such a personal way until I started doing this.'
In Boston, Borges went into Kolderieu's Camp Street studios, initially for a single demo session. The chemistry between the artist and producer was immediate, and in fact two songs from that first session, 'Pious Proud' and '6 Feet,' ended up in the final mix of 'Silver City.' In a process that would eventually span more than a year Borges lovingly labored over the collection of songs that would introduce her to the world.
'The record became a chronicle of me learning to write these kinds of songs,' she says and in addition to finding her own voice Borges continued to soak in a vast variety of musical styles. The result is an album that finds the singer covering 'I'm Going To Live The Life I Sing About In My Song,' a Mahalia Jackson song that was penned by Thomas A. Dorsey, as well as the decidedly more recent, 'Mellow Doubt' by Teenage Fanclub. Again, the passing of years and difference in geography is of little consequence to Borges.
'Merle Haggard is a bad ass,' she explains. 'Just because it's a lower profile thing than Sid Vicious doesn't make him any less hardcore or authentic.'
The most definitive example of Borges' musical study comes on her own 'Daniel Lee,' with a swinging melody that would earn nods of approval from Nashville veterans as well as Los Angeles hipsters steeped in the Beachwood Sparks school of Americana. It was this cross over appeal that must have dawned on Blue Corn's Auble when he paid Borges a visit at Camp Street Studio last July.
'He walked in and there was this big party that he immediately fit into,' Borges remembers of a performance that found the singer inviting many of the talented pals who appear on 'Silver City' to join her. 'It was obvious that he got what we were doing.'
By September Borges had a finished album, and after the requisite crossing of T's and dotting of I's, Blue Corn now eagerly anticipates the March release of 'Silver City.' The label will be hard pressed to match the exuberance of their artist.
'It's the first time in my life that I have made a piece of work that's a good representation of who I am as a person, it's my heart, my head and my soul, it represents all of those.'
Tom Kielty's work has appeared in the Boston Globe, Rolling Stone, Hollywood Reporter and numerous other publications.