No Matter Where It Goes From Here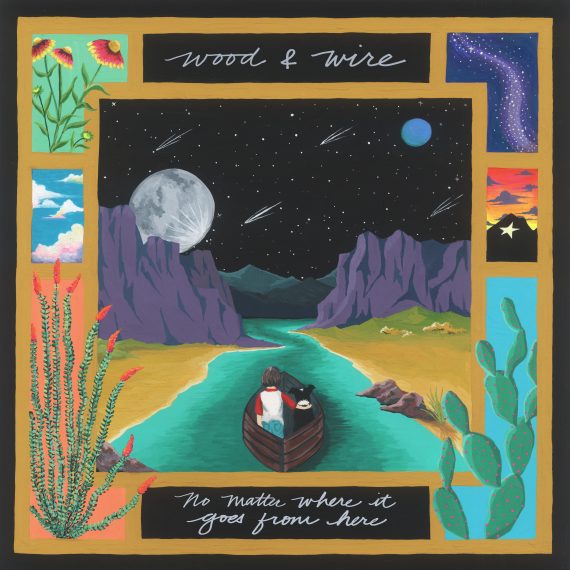 The band's first release since 2018's Grammy-nominated 'North Of Despair'
June 23, 2020 – Austin, TX – "I don't like bluegrass, but I love you guys," is something Wood & Wire hear often from new fans, and while the band never claims to defy categorization—they are, after all, a four-piece band made up of guitar, bass, banjo, and mandolin—they certainly ignore the notion of musical boundaries. On August 28th, Wood & Wire will release No Matter Where It Goes From Here, a whirlwind of songs and styles sprung from the band's punk, hardcore, and jazz backgrounds and crafted into a cohesive, collective work; one certainly capable of earning yet another Grammy nomination for the band. On this nine-song collection, Wood & Wire—Trevor Smith (Banjo, Vocals), Dom Fisher (Bass, Vocals), Tony Kamel (Guitar, Vocals), and Billy Bright (Mandolin, Mandola, Vocals)—combine virtuosic playing with engaging melodies and lyrics that range from mentions of Banksy and Kerouac ("John"), a social commentary on money and exploitation ("Pigs"), to the 1794 Whiskey Rebellion and steam-powered river travel. No Matter Where It Goes From Here was produced by Wood & Wire and Pat Manske (Robert Earl Keen, Ray Wylie Hubbard) at The Zone in Dripping Springs, TX. Fans can find out more about the album and pre-order at this link.
The first single "Pigs," written by Kamel and Silas Lowe, is a driving Wood & Wire-style commentary on the power of money and its effect on everyday life. "This tune was originally inspired by my deep disdain for reality TV shows," says Kamel. "It expanded as a social commentary on money and how we as a people consume, and are constantly manipulated by the constant flow of media information–and misinformation." The music meets the message flawlessly and aggressively before leading into the next, more peaceful instrumental, "Roadie's Circles," joined by acoustic music legend, Peter Rowan. The song starts with Rowan's lusty yodel, then weaves traditional bluegrass tempos into an intricate rondo of interconnected textures, with jazz-kissed Southwest breezes and a Spanish-guitar interlude.
They've been playing the historical song, "Spirit of '94," written by band friend Geoff Union of Ragged Union, since being invited to perform at the 2018 Whiskey Rebellion Festival, held annually in Washington, Pennsylvania, where the insurrection began. The charmingly melodic Robin Bernard/Dom Fisher tune "Paddlewheels" would totally steal the heart of late riverboat pilot John Hartford. The river also figures in Bright's composition, "My Hometown," an El Paso reminiscence in which he mentions, "My hometown is steeped in funk/My hometown's got the border punk junk." If those words evoke Punch Brothers before Stanley Brothers, that just affirms how broad the spectrum of bluegrass-oriented music really is.
Another standout is album-opener, "John," a good-time swing about Kamel's high school buddy who didn't adhere to the life he was prescribed. John became a commercial salmon fisherman and artist in Alaska, Kamel a musician. It is an ode to the "seekers, searchers, and drifters" sung about in the song's chorus; those that go against the grain and choose a direction less traveled.
In a way, that sentiment is a perfect precursor for an album full of unapologetic ideals that, when combined with world-class musicianship, results in a release to appease most everyone who will hear it. Bright sums up the artistic philosophy behind the band. Just getting to gigs, much less performing, staying together, sustaining the precarious lifestyle; the odds are stacked against success. "As performers," he adds, "we understand this plight and that the only way forward, wherever we may land, is to put ourselves out there, no matter where it goes from here." For Kamel, it applies not only to the band's dynamic, but the bigger-picture uncertainty of their musical future in a pandemic-tilted world. "We'll ride whatever wave that comes our way," he assures. "We just can't control what kind of wave that is."
John
Can't Keep Up
Pigs
Roadie's Circles
Spirit of '94
Home and the Banjo
My Hometown
Paddlewheels
Clamp's Chute
News
Brand new song and video, "Pigs" from Wood and Wire!

From the upcoming release "No Matter Where It Goes From Here", out NOW

Wood & Wire announce new album "No Matter Where It Goes From Here" out August 28, 2020!